Posts
I was recently informed that my old laptop, a HP Pavilion ze4111s, (now being used by my girlfriend) that "it doesn't charge", which then changed to "it sometimes does, and other times it doesn't".

I decided to investigate and began wiggling the AC adaptor at the back in the DC jack socket, which appeared to become lose.

My next idea was to take the laptop apart to take a closer look at the DC jack to see where the problem lay.

The first thing I did was to find the service and maintenance manual on the manufacturers website. I managed to locate the Service and Maintenance manual for the HP Pavilion 4100 series in PDF form, this document can be used for many other laptops as they are all built in a very similar way.

I began following the instructions for "removing the motherboard", which requires following the instructions for removing other parts first. This is a long process, and can take some time.

To make sure I knew which screws were for what and where, I took a few empty egg boxes, and labelled them as I put the screws in. This will make it easier to locate the right screws when I reassemble the laptop.

After spending some time to get to the motherboard and safely remove it, low and behold the connector had come away from the motherboard, but was sometimes still touching hence why sometimes it worked and other times it did not.

I also discovered that the housing had cracked, and with a little wiggle the top came off, and I could now see the exact problem.

My next step was to work out what to do next with this laptop. This laptop is quite old, and is most definitely outside its warranty period. However I knew what the problem was and had a few ideas on how to fix it.

I decided to contact HP for their suggestions, and while I waited I searched eBay for a supplier of parts for the ze4111s, I located a company who had some parts. I contacted them about getting a replacement motherboard for the laptop, and they suggested that the replacement would be £60. To me that is excessive, probably about 1/3 of the total value of the laptop, it's not worth it.

I finally got hold of someone at HP, who suggested I contact a service centre, who I found out, charge an absolute fortune! I explained to them that it would not be worth my while and besides I know what the problem is.

I tried resoldering the connector from the housing of the DC jack to the motherboard, but the moment I put the AC adapter into the DC jack the housing would break and force the connection to break.

Upon further examining the motherboard, I discovered that the jack could be safely removed from the motherboard providing I could unsolder it from the underneath where it connects to the motherboard in three places. Not a problem, I'd just require a replacement jack.

I went on to explain this to the HP contact, who provided me with the following details:

I would like to inform you that as per HP policies if the issue is with

power jack then you have to replace the motherboard. However, for your

information I would like to say that the Power Jack on some Notebook

models can be replaced. So, please visit the following Web site to to

know more information about the power jack on the Notebook:

http://www.compaqrepair.com</wbr>/guide/Compaq_motherboard_ac</wbr>_power_jacks.htm

OR

http://www.laptopjacks.com</wbr>/service.php

OR

http://www.aacomputerelec.com</wbr>/categories.asp?cat=8

NOTE: The URLs above will take you to a non HP Web site. HP does

not control and is not responsible for information outside

of the HP Web site.

Once you visit the We site, contact support of the web site and check

for the availability of the power jack for your model.

Then take the notebook to nearest Local Service Center and get the power

jack replaced.

This was most helpful, I discovered that clearly it can be done, and there are replacements out there!

I also found this thread, and figured that if this guy could do it, I could do it too.

I found that the sites above were charging a fortune for the replacement jack, so I checked all my usual suppliers for components including Maplin, no such luck.

Then, a brainwave, I could cross reference google with eBay and see if anyone had mentioned a jack for a ze4111s recently. So that's what I did, and soon discovered the seller "laptop18000", and their shop "GOOD DEALS IN" based in the USA, but sells DC jacks for laptops for very cheap compared to the previous offers.

"Sounds good to me!"

From here its simply a case of de-soldering the old connector from the motherboard, soldering the new connector, then putting the laptop back together. Problem solved!

Meanwhile, the laptop remains in pieces…

In conclusion, don't throw your laptop away, don't pay excessive amounts getting someone autherised by HP to fix it, don't pay more than you have to. DO IT YOURSELF!

Despite my problems with purchasing mp4 players in the past I decided to purchase a new one.

This time I found a good one from a reputable website that sold items from China across the world, instead of eBay.

This device is also known as the Black Hawk MP4 Digital Player or mini Play Station Portable or IHTOOM personal media player.

Read More »

Device Manager does not have a Save command available for you to save a report to a text file. To save a Device Manager report to a text file, you must install a generic, text-only printer, and then redirect the Device Manager report to this printer.

To print to a text file:
Click Start, and then click Printers and Faxes.

Click Add a Printer, and then choose the following options in the wizard:
a. Click Local Printer.
b. Click to clear the Automatically detect and install my Plug and Play printer check box.
c. Click Use the Following Port, and then click FILE (Print to file).
d. Click Generic in the Manufacturer box.
e. Click Generic / Text Only in the Printers box.
f. Name the printer.
g. Click Do not share this printer.
h. Click No when you are prompted to print a test page.
When you click the printer in the Print dialog box, Windows prompts you for a file name.
Done!
print\_to\_txt.txt
I bought this on the 20/08/04 for £179.99, which actually seems quite a lot for such a phone, but it was not bad at the time for a brand new unlocked phone.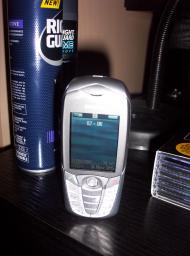 I decided to get this phone as I had a Siemens ME45 before and that was great for it's time.
In my opinion, this phone had a very stylish design. It was one of few non-flip phones on the market as they appeared to be becoming the norm. I have always been under the impression that like small convertibles, they are girlie.
The features I particularly liked when I purchased this phone were the custom polyphonic ring tones, vibrate, IRDA, build-in camera for photos and video, navigation joystick, integrated antenna, loudspeaker, "dynamic lights" for alerts, full colour display, video playback, silent mode and the ability to sync with Microsoft Outlook.
At the time of it's release cameras were begining to become established in phones and were now the standard, as such this phone even came with an optional flash which plugged into the bottom. Quality of photos and video is reasonable.
Obviously it also came with standard features such as SMS, MMS and Internet/WAP, oh and of course the ability to make and receive calls.
As you can tell, this phone is pretty feature-tastic, the only thing it is missing from it's elegant design is bluetooth. To begin with this didn't matter as no one had bluetooth either, but as more and more phones came with bluetooth as standard, this phone got left behind.
Regardless, this is a fantastic phone. One of the best things is the navigation. Finding anything was easy, and once you were in it, it was easy to use. Text messages supported T9, which was really simple to work with, compared to other phones.
I also loved the management options such as copy and paste, and the phone number highlighting so you can dial a number you are sent with ease.
One of my favorite features was the dynamic lights. These are used when you receive a missed call or a text message to continually alert you that you have to attend to it, without continuously releasing a distressing noise like other phones, otherwise known as silent alerts. You are able to turn off the dynamic lights feature.
This phone also comes with some useful applications such as calculator (which is difficult to use), calendar, notes, task, dictating, stop watch, count down, unit converter, alarm clock, media player and all sorts of other software functions I would probably never get around to using, but at least I know they are there.
Another great feature of this phone was its ability to run java. This meant you could easily get hold of, and install new applications and new games to extend the possibilities of this phone.
Although this phone has quite a bit of storage space, for some strange reason, it could only seem to manage 100 text messages on the phone, and the standard 10 on the sim card. I never worked that out.
One thing I did find useful, was the ability to sync with outlook. Although to begin with the software that came with the phone wasn't very good, Siemens released new software which was far better. Also the data connection was serial not USB, this meant your power was drained very quickly.
The benefit of this though was that I was able to use SCMxx, which is command line based communication software which I used for sending text messages from my computer without having to type with my thumb on my phone or use bulky software.
However, I think this is going to be the last Siemens I buy, and is almost definately the last of its kind, as on 07/06/05 Siemens AG (Siemens Mobile) announced it was being bought by BenQ (formerly Acer), but it all spells trouble for me, and as far as I can see it is a struggling company, and is having difficulty competing in today's market. It is only a matter of time before its is bankrupt.
Conclusion: This was a great phone and simply lacked bluetooth, it's time to move on.
More: Siemens CX65
An ISO image usually refers to an archived copy of an optical disc such as a CD or DVD.
You would usually experience such files if you downloaded a full CD copy of an application or a bootable CD.
Other circumstances are if you would like to use a CD without having it physically in the drive, you can do this by creating a virtual drive, using an emulator.
The general term for software that can do this is called a "disk image emulator", and there are a few out there to choose from.
Read More »
subscribe via RSS