I HATE this phone, here's why…
It allows you to go into "create a message" even when the memory is full and there's no possible way to send it. So you spend the time to write a text message, and you can't send it anyway!
When the battery is low, it lets off a loud shrill of a noise CONSTANTLY. It's VERY annoying, VERY loud, and so unnecessary. There seems to be no way to turn it off either. The only times I seem to get this is either when I'm trying to sleep or when I'm with a client, neither times do I have a method to charge the phone.
The camera is of very poor quality. Enough said.
The "Flip" mechanism is flimsy and is practically broken.
After a year the phone is starting to show signs of wear, the silver paint is coming off, showing a black under layer, the cover that covers the camera on the outside cracked, and consequently fell off.
Trying to add a new word into the dictionary is near impossible. The damn thing is so difficult to use.
When you get a message or a missed call, the phone will beep/vibrate every few minutes to remind you. This gets very annoying. On other phones there are more subtle methods such as an LED on the outside that remains lit when attention is needed.
The HUGE blue fading light that has absolutely NO purpose other than to annoy me while I sleep at night, while it charges. WHY couldn't this be used for alerts and such?
To inset the memory card, you must take off the battery cover… WHY didn't they just make a slot?
This phone is unnecessary bulky and ugly.
There is no signal to let you know that the call has ended, so you can continue to speak even though the call has ended. How difficult would it be to add a subtle beep at the end of the call?
When the LEDs on the number pad are lit they make a very loud humming noise which is most distracting.
This phone appears to get interference with EVERYTHING. If it has a speaker, chances are when you're making a call you get a constant buzz. Even phones from the 90s didn't do this as bad.
You can't set bluetooth to discovery mode for more than 3 minutes. This is annoying.
This phone crashes often.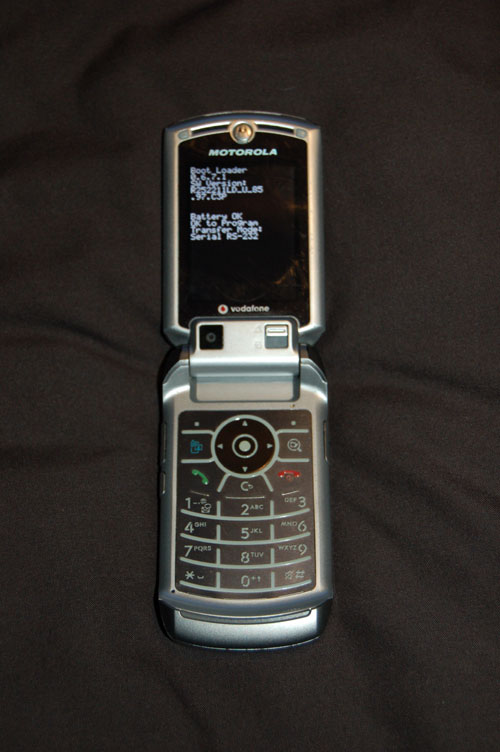 I can sync it with Outlook!
It plays MP3s, and plays them as ringtones too!
It takes photos.
It can do videos, just not very well.
You can do video calling.
It can charge via USB.
The screen is quite a good size, and pretty clear.
All in all, I hate this phone, but I did get it for free.
Anyway onto my next phone… the Nokia N95.