Posts
Back in 2006, Mandi approached me to create her a website for her real estate and property rental business: 3 Shires Property Network.

There was already a website online with the basic contact details, but no properties listed.

Now with over 60 properties listed on her website things are going well, which tells you that we did something right.

Time for the close up:
Banner: The logo was provided by the client to remain consistent with their existing stationary. The farmhouse image was added at the top to give a rural look and feel, giving the visitor the right impression of the business. Rounded to make it easy on the eyes.
Navigation: A simple, basic navigation bar below the banner, but above the contents makes it easier for the user to find what they want.
Photos: The client really wanted to get across to the visitor the range of properties they dealt with. The "from flats to farmhouses" phrase came up and the ideas stemmed from that.
Details: All the details the visitor needs are right there on the front page.
The technical part
The website engine is actually based on the PHPbase powered open source "Property Management Software" which I heavily modified to fix errors and security issues as well as adapt to the UK market.
Migrating to a new server
The website was moved by Phurix from an ageing server to a new server.
This did however introduce a few problems, where you could no longer edit the properties from the admin area.
This is because it was originally developed for PHP4 and I've never updated the code since. The previous server ran both PHP4 and PHP5, however the new server only runs PHP5.3 (or above) as PHP4 was discontinued in 2008.
After a few hours looking at old code and scratching my head, I discovered an "at sign" (@) which was suppressing all the usual errors and warnings that you would see when there is a problem.
The solution was to update the code by dealing with the compatibility errors and warnings.
What I would do differently next time
The first thing to go would be the website engine.
It's unlikely that I would recommend the software above because it is no longer in development by me or the original authors.
Things have moved on a lot since this website was written, social media was just getting started and Google Chrome didn't even exist!
Some alternative options for real estate listings are:
Open-Realty: Commercial license, partially encrypted, poor looking demo (cira 2005). No thanks.
Drupal: Good solid base to start with but there's no actively developed home/real estate/realty modules. This solution would be too complex for a small business.
Placester: A new player making it very easy to create real estate ads online and feed them into many other websites. The issue is that it's not yet in the UK and I've yet to work out what's in it for them.
So, to keep it as simple, yet modern I would opt for
WordPress with the Estate theme by woothemes, which may seem like an odd choice, but it's worth it for all the for all the included advanced features.
As for the design, I still quite like the style, but I would probably modernise it, making the navigation clearer and adding a nice chunky footer, while using WordPress and the Estate theme as a base would clean up how the contents is displayed and managed.
The IT Exchange Ltd. website gets a facelift!
When I first met Simon from The IT Exchange Ltd (ITE), he explained to me how his website was outdated and wondered if I could do him a new one.
ITE are printer specialists and really wanted to stress how they recycle IT and that no printers go to waste.
Tired: Their original website
Fresh: Introducing the new website…
The header shows a re-rendered version of the original ITE logo to retain consistency with their stationery. The contact telephone number is clearly displayed on the right along with the email address to make it easy for visitors to get in touch.
The banner really had to show what ITE is all about: printers and recycling. Being green is important to businesses and they wanted to show that they understand that.
Smooth corners were a bit of a pain to implement on every browser, but worth it for that soft look and feel making it easy on the eyes.
Call to action was added in the form of a large button so users can easily "get in touch". A neat trick with this button is it's also offers live help via Google Talk when Simon is logged in. When he's not, you'll be taken to a contact form.
The footer has room for their address, contact details and company details. I felt this was quite important to re-enforce the integrity of their business.
The site is officially launched!
Good luck to Simon, all he has to do now is edit the content and let people know!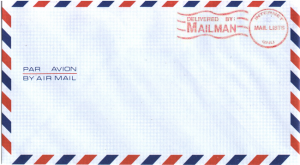 Over the years I've been asked how to integrate a newsletter into a website quite a few times.
These days I often find myself recommending a third party service such as MailChimp, however I soon discovered that as brilliant as it is, MailChimp its not for everyone.
For example, many of our web hosting clients want to run their own mail campaigns through their own website rather than use a third party service.
Read More »
A couple of days ago we launched the new look Randles website. To the untrained eye the site may not look that different. The main purpose for introducing changes gradually is to avoid alienating regular visitors.
Here's what we did:
Change "Use Stock List" to "Used Vehicles"
Box in the "Used Search Form" on the "used" page
Insert the "User Search Form" onto the home page under the banner
Update the "parts-and-accessories" page to include randles-stafford and randles-stoke (Peugeot) links
Fix the overlay links (changed to iframes)
Accommodate larger banners (920px*270px)
Add a 190px*190px badge to the top of the sidebar, above the dealer finder, which says "Click here for 'hot deals'", similar style (in red).
A new (larger) footer. The footer will be split into 3 sections: Quick links, About and Copyright/legal. The "Quick links" will come from the existing links. The "About" will be taken from the bottom of the homepage. The copyright/legal will stay the same/be made clearer.
Here's what that looks like:
Admittedly there's still some tweaks to do, but it's work in progress and always moving forward…
A client called explaining to me that they were unable to print to their Sharp MX-1800N network printer. Upon inspection it said that the printer was "Offline".
I checked other computers on the network and they didn't report this and were able to print to that printer without error.
I checked with Microsoft's knowledge base to see if this was a common problem. There was a possible solution, which involved changing the value of the "PrinterOnLine" registry key from 0 to 1, but that value was already set. No fix.
I tried reinstalling drivers from scratch. No fix.
I investigated further… Read More »
subscribe via RSS