Today a client reported a problem when they tried to open a PDF document in Internet Explorer.
The document did not load and instead there was just a grey page.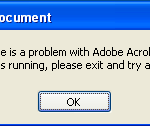 However, when they tried again they would receive this error:
There is a problem with Adobe Acrobat/Reader. If it is running, please exit and try again. (103:103)
The solution is as follows:
Open Adobe Reader X
Select Edit -> Preferences from the menu
In preferences choose General
Uncheck the option for Enable Protected Mode at startup
If you are prompted to "manually restart the application" and if you are sure you want to continue, press "Yes"
Press OK
Close Adobe Reader X
Open your web browser (Internet Explorer) and try to load the document again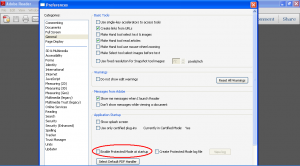 Alternatively, if this still doesn't help, try uninstalling Adobe Reader X and installing FoxIt Reader instead.
Did this work for you?